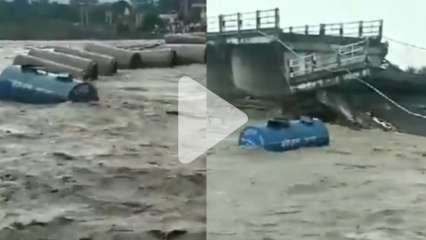 The alternate route, built after the floods swept away a bridge, lasted just 10 days as intense floodwaters have against brought the Dehradun-Ranipokhari-Rishikesh highway to a halt.
The temporary bridge was built on August 27 to facilitate vehicle movement near a village called Rani Pokhari. The alternate structure was constructed after a bridge, part of the Ranipokhari flyover on the highway collapsed due to intense rains and flooding.
Floodwaters washed away the alternate route after the region experienced a very heavy bout of rainfall yesterday night.
ANI shared a video of the road being washed away by heavy floods. An truck is seen taken away by floodwaters.
#WATCH | Uttarakhand: An alternative route on Dehradun-Ranipokhari-Rishikesh highway created to facilitate movement of people & small vehicles was swept away due to heavy rains last night.

The route was created after parts of a bridge over Jakhan river collapsed on August 27. pic.twitter.com/9HdwZVVLtV

— ANI (@ANI) September 7, 2021
Geologists have advised that residents in Jumma and adjoining villages in Uttarakhand's Pithoragarh district should be immediately evacuated. Some houses in the region have reportedly developed big cracks, raising the risk of structural collapse. Two houses have already collapsed in Jumma village in Dharchula area, claiming five lives. Two people are reportedly missing.
The collapse of houses was caused by a landslide which is still active, endangering several villages in the area, as per district geologist Pradeep Kumar.
People have been urged by the Uttarakhand police to avoid travel in the region till the weather situation normalises.



Courtesy – www.dnaindia.com