CHINA WANTS TO WIN 'IMAGE WAR'
Shortly before her promotion last year to head the foreign ministry's information department, Hua Chunying lamented the lack of fighting spirit among China's diplomats in promoting the country's preferred narrative.
She admitted China had a lot of problems getting its message across at a time of deepening rivalry with the United States and scrutiny of China's global ambitions in an increasingly chaotic world.
But for Hua, who just wrapped up a four-month training course focused on President Xi Jinping's domestic and foreign policies at the Central Party School, diplomats' inaction and their lack of fight is partly to blame.
Published in a front-page article in July in Study Times, the flagship newspaper of the party school, her remarks echoed a key message that the leadership and diplomats have repeated since early last year, that Communist cadres must prepare for a"long-term struggle" and be prepared to fight through adversity.
The Covid-19 crisis is obviously one of those testing moments.
The pandemic appears to have lent further support to a younger generation of Chinese diplomats, many of whom often have become increasingly strident and combative, to the surprise of their overseas counterparts.
According to Zhao Tong, a senior fellow at the Carnegie – Tsinghua Centre for Global Policy in Beijing, the repeated calls for fighting spirit have fed a national narrative that it is time for China to stand up to the perceived hostility from the West.
"With the blessing from the top leadership, it is fashionable and beneficial for diplomats to turn themselves into 'wolf warriors'," he said referring to a popular nationalistic film.
"Defending China and pushing back against the US narrative becomes a thing of political correctness."
In a bid to repair its tarnished image over its initial handling of the Covid-19 outbreak, Beijing has started an aggressive propaganda offensive to deflect the blame for the pandemic.
Apart from sending test kits, masks, ventilators and other medical supplies to 120 countries, the country has also dispatched over 100 health experts to Italy, Serbia, Iran, Pakistan, Venezuela and several other Asian countries, according to state media and China's top envoy to Washington Cui Tiankai.
John Seaman, a research fellow at the French Institute of International Relations, said the failure of Europe and the US to prepare for and manage the coronavirus crisis so far has provided an opportunity for Beijing to promote its narrative – showing how it can forcefully impose emergency measures to contain the crisis while casting doubt on the effectiveness of other governments.
Hua's colleague Zhao Lijian caused a diplomatic uproar last month when he shared a conspiracy theory that the US army might have spread the coronavirus in Wuhan and was attacked by US President Donald Trump for doing so.
Cui distanced himself from Zhao and dismissed such baseless claims as "crazy", which would only hurt the already damaged relations between the two sides.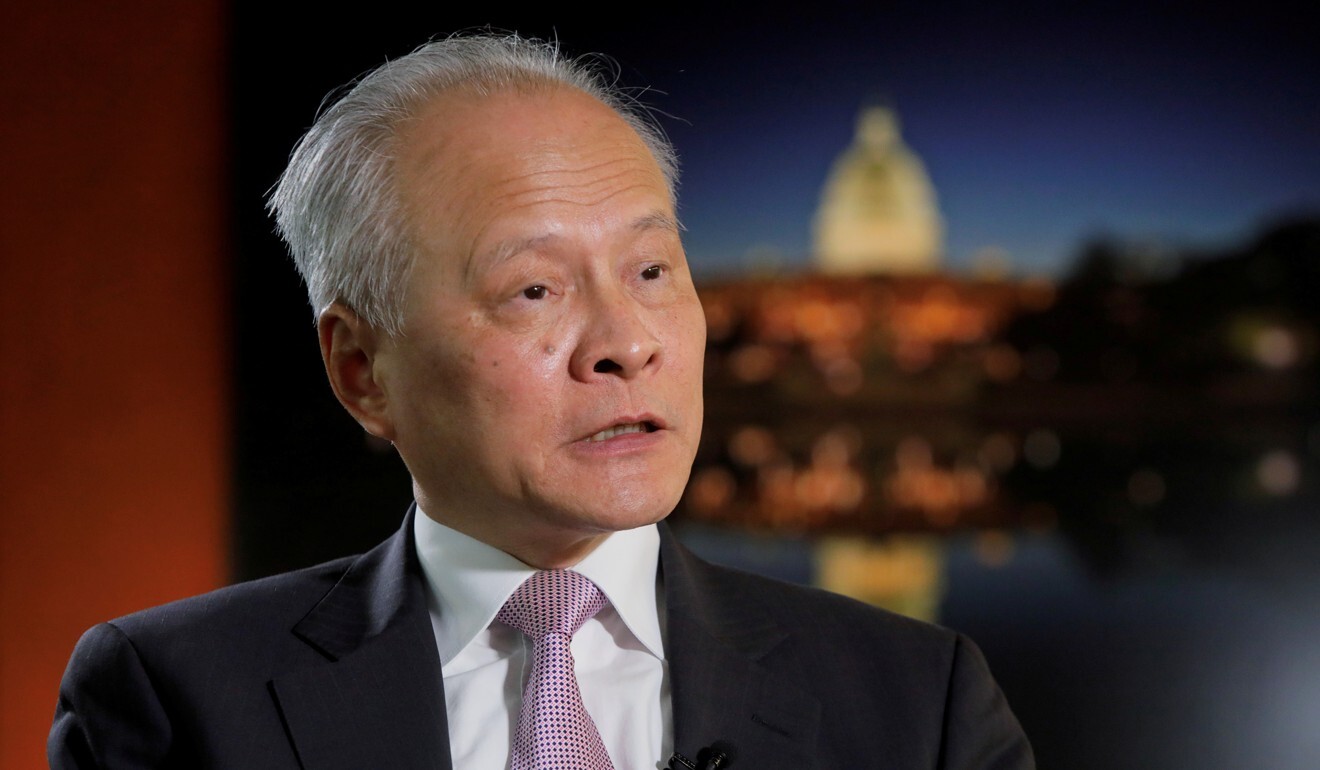 China's ambassador to the United States Cui Tiankai dismissed the conspiracy theory. Photo: ReutersUnderlining the deep-rooted distrust and antagonism between China and the West, American and European officials and scholars have cautioned that Beijing's medical diplomacy was an attempt to take advantage of their vulnerabilities and fill the leadership vacuum left by the US.
Chinese diplomats around the world have gone into overdrive to vigorously fend off any criticism of China's handling of the outbreak.
"China is turning the pandemic into a geopolitical weapon? Will soldier think of reward amidst fierce battle?" Hua said in a Twitter post last week. "All we're preoccupied with now is save more lives and provide more assistance," she said.Hua Chunying 华春莹✔@SpokespersonCHN
China is turning the pandemic into a geopolitical weapon? Will soldier think of reward amidst fierce battle? All we're preoccupied with now is save more lives & provide more assistance.8,079Twitter Ads info and privacy1,684 people are talking about this
Analysts believe the rise of the wolf warriors in China's diplomatic establishment marks a shift in Beijing's relations with the world – especially its love-hate relationship with Washington, as the balance of power shifts between the two sides and rising support for populist, anti-global politics.
Chinese diplomats led by foreign minister Wang Yi and his predecessor Yang Jiechi have become increasingly assertive in the past few years, especially when the country was on the defensive over the South China Sea, Huawei, Xinjiang and Hong Kong.
"There is no doubt that the assertive diplomacy, including the conspiracy theory to blame the US for spreading the virus in China, has had the approval from the leadership," said Yun Sun, a senior fellow at the Stimson Center in Washington.
"This is reflected in the fact that such conspiracy theories are allowed on the internet despite the strict information control about the Covid-19, as well as the fact that a spokesperson of the foreign ministry will need authorisation to tweet what he did. I think the diplomats and the leaders are mutually reinforcing each other's position."
Zhao, from the Carnegie – Tsinghua Centre for Global Policy, also said the top-down decision-making approach meant diplomats and others at the operational level have great incentives to "go extra length to promote this line of thinking and action".
Senior diplomats "must know they are destroying China's international image, more than any foreigners can do", he said.
"It's more likely that they choose not to care, because their aggressive performance on the international stage would win them greater career success domestically, in a political system that has undergone dramatic change in recent years."
Analysts believe there are genuine disagreements within the diplomatic establishment between those who want to adopt a more aggressive stance and those that favour a more conciliatory approach.
But they warned that with Xi dominating the centralised decision-making process and moderate voices largely sidelined what Zhao Tong described "a self-reinforcing cycle could emerge between a self-confident leadership and assertive policy advisors".
Pang Zhongying, a visiting senior fellow at Singapore Institute of Southeast Asian Studies, warned that the so-called wolf warriors were doing the opposite of diplomacy.
"It is not helping China further its interests or making friends around the world. It's disappointing to see those diplomats whose personal and career development have benefited from the liberal world order are now trying to dismantle it. It is a big blow to the existing multilateral order and China's global image," he said.
Courtesy – South China Morning Post