Ahead of a virtual leaders meeting of the Shanghai Cooperation Organisation (SCO) on Thursday, Russia and India appear poised to set aside their differences on Afghanistan and cooperate to safeguard the region's stability and security.
The potential realignment of alliances involving two of the security grouping's members comes as Beijing is expected to push for a consensus at the summit on dealing with the Taliban, so it can urge the international community to ease sanctions on the Islamist group.
Besides China, Russia and India, Pakistan and the Central Asian nations of Kazakhstan, Kyrgyzstan, Tajikistan and Uzbekistan are members of the SCO.
Afghanistan, which is heavily dependent on aid, is facing an economic and humanitarian crisis, heightening fears in Moscow and New Delhi about a protracted refugee crisis.
Moscow and New Delhi are also wary that the Taliban, which seized control of Afghanistan last month .
These factors seem to have spurred a coming together of the old friends.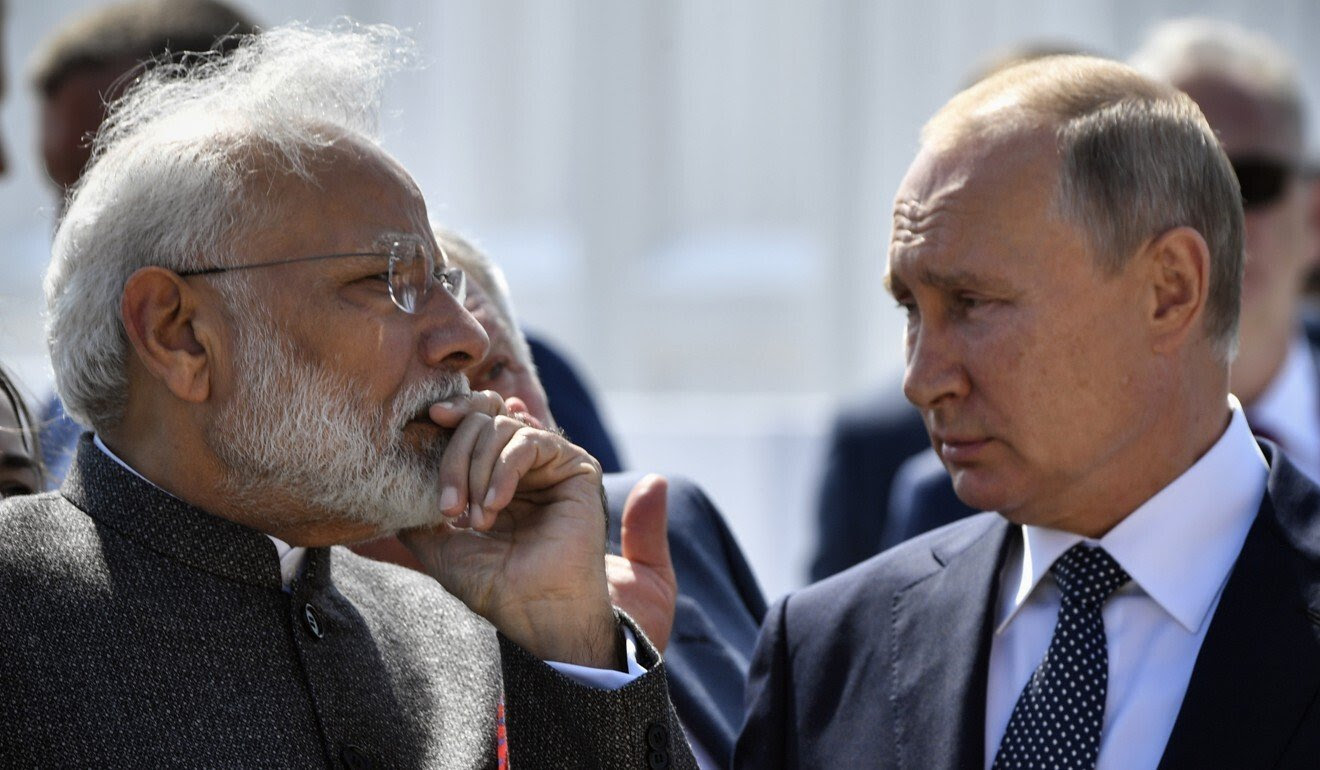 Indian Prime Minister Narendra Modi and Russian President Vladimir Putin have increasingly found common ground in Afghanistan. Photo: AP
It is a marked shift, analysts said, from the earlier dynamic when Russia refused to support a United Nations Security Council resolution adopted under India's presidency.
The resolution, which demanded Afghan territory not be used for terrorist attacks on other countries and for the Taliban to respect human rights, was rejected by Russia last month, with its representative insisting Moscow was "forced" to abstain "because the authors of the draft ignored our principal concerns".
In July, Moscow snubbed New Delhi by excluding it from the "troika" and the "extended troika" meetings it hosted with countries including the United States, China and Pakistan, insisting India did not have "unequivocal influence" on developments in Afghanistan.
Many in New Delhi interpreted this as a sign Russia had bowed to Pakistan's pressure to exclude India.
However, Sanjay Pandey, a professor at the Centre for Russian and Central Asian and East European Studies at New Delhi's Jawaharlal Nehru University, said Moscow's decision-making had changed, given that the "Taliban's actions do not elicit a lot of confidence".
He pointed to the Taliban crushing resistance forces in the Panjshir Valley and its refusal to form an inclusive government despite pressure from the Kremlin.
"Russia has largely gone along with China and Pakistan, but it is no longer absolutely confident that the Taliban will keep its promises about not disturbing existing regimes in Central Asia and about not supporting Chechen militants against Russia," Pandey said.
As a result, Russia has been forced to consider "an alternative strategy", Pandey said, seeking common ground with countries such as India and Iran to protect its sphere of influence in Central Asia.
Speaking to Reuters on Monday, a senior Gulf Arab official who declined to be named said: "If there is a geopolitical struggle over Afghanistan, we will see Pakistan and China on one hand and we will see India, Iran and Russia on the other hand.
"And I don't think the Americans are going to be a part of the geopolitical struggle over Afghanistan."
For New Delhi, engagement with Russia is appealing as a means of expanding its influence in Afghanistan, rather than engaging directly with the Taliban. India has admitted so far to just one meeting with the group's members, in Qatar last month.
Said Aleksei Zakharov, a research fellow at Moscow's School of International Affairs of the Higher School of Economics: "Russia is arguably India's closest partner among those who have established ties with Taliban, and [Russia] is well-positioned to have regular contacts with both China and Pakistan, which may seek to undermine Indian positions in Afghanistan."
Russia is also determined to prevent terrorist groups being based in Afghanistan, dovetailing with New Delhi's concerns that anti-India terrorists groups might find safe harbour in Taliban-ruled Afghanistan.
"Russia could promote Indian interests in Afghanistan … by [obtaining] guarantees that terrorism will not spread across the region, not only through Afghan borders with Central Asian states, but towards the Line of Control in Kashmir as well," Zakharov said.
Pandey noted Russia's influence, as it has already led a military alliance with Armenia, Belarus, Kazakhstan, Kyrgyzstan and Tajikistan. Moscow has also fast-tracked arms exports to Central Asian countries and conducted military exercises with Uzbekistan and Tajikistan along their borders with Afghanistan. Pandey said Moscow might even persuade the Taliban and India to normalise ties.
However, obstacles remain. For Russia, India's ties with the US and its membership of the Quad grouping are possible sources of tension. Modi will this month travel to the US for the first in-person Quad leaders summit.
India, on the other hand, will be wary of