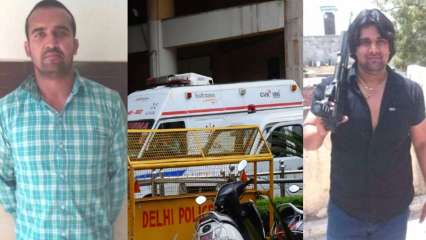 The shootout in the Rohini Court in the national capital Delhi has raised many serious questions. Contrary to the statistics of crime control, this incident may seem like a film scene of a gang war, testifying to the deep roots of crime, but in reality, it is an old story of the war of supremacy in the world of crime. In the initial investigation, the police have come to know that the shootout in Rohini Court was hatched from Mandoli Jail. Jitendra Mann alias Gogi's old enemy Sunil alias Tillu is lodged in Mandoli jail itself.
There is an old history of a gang war between Jitendra Mann alias Gogi and Sunil alias Tillu Tajpuria. One after the other, the process of killing the members of both the gangs continued. After this gang war, the needle of suspicion is pointing at Tillu because, in the initial investigation, it is being said that a conspiracy was hatched to kill Gogi from inside Delhi's Mandoli Jail. Tillu Tajpuria is lodged in the High-Risk Ward of Mandoli Jail and many of Tillu's henchmen are also lodged in this jail. After making a plan to kill Gogi, Tillu got the operatives present outside the jail to execute the shootout. The team of Delhi Police Special Cell may interrogate Tillu Tajpuria soon.
The shootout in the courtroom has raised questions about the security arrangements. After all, how did the armed miscreants manage to kill Gogi in the courtroom? Although Delhi Police claims that the security was tight. According to the special cell, about 8 police personnel from two different units armed with weapons in civil dress were present with Gogi. While another vehicle of the Delhi Police Battalion, in which about 7 to 8 soldiers were armed with weapons, were present with Gogi.
In the presence of around 15 police personnel, both the miscreants present in the courtroom started firing on Gogi. According to the information, more than 8 bullets were fired at Gogi. Even after this, the miscreants continued firing. In retaliation, the police also fired several rounds and succeeded in killing the miscreants.
At around 12-12:30, the shooters of the Tillu gang, Rahul and Morish entered the court premises in the uniform of lawyers. Being in the uniform of a lawyer, they were not frisked at gate number 4. Before the attack, both the miscreants had done recce of the security of the court. They knew that the team of the Third Battalion comes to the court with the prisoner, there will also be a special cell with him. Both the shooters used the stairs instead of the lift and reached court number 207 and sat down beforehand and as soon as the police team reached inside with Gogi, they started firing with the pistol.

Courtesy – www.dnaindia.com