[ad_1]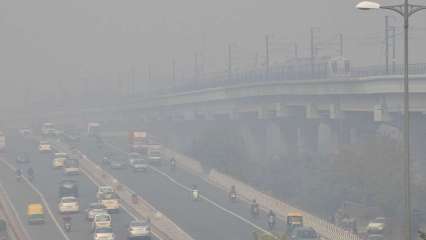 Just days after clear skies and unseasonal rains, the air quality of Delhi has taken a major hit. The air quality of the national capital is deteriorating swiftly each day and is expected to get much worse by the time Diwali comes along.
The air quality in Delhi deteriorated to the "poor" category on Wednesday, according to the authorities, after being in the "good" category just 48 hours back due to the rains and gusty winds. The authorities have also stated that the number of stubble-burning incidents is also going up in Delhi.
The Ministry of Earth Sciences' forecast body SAFAR recorded the Air Quality Index (AQI) of Delhi at 222 on Wednesday, and the number is expected to get worse in the future. The AQI on Monday was recorded at 46 (good) while on Tuesday it was 69 (satisfactory).
According to the authorities, the air quality of Delhi has slipped into the poor category because of the rise in stubble burning cases in and around the national capital region. SAFAR said that the stubble burning share is likely to increase in the next two days if there is no rain.
The Indian Agricultural Research Institute (IARI) recorded a total of 969 farm fires recently, with Punjab accounting for 788, Haryana for 155, one in Uttar Pradesh, four in Rajasthan, and 21 in Madhya Pradesh. No fires were recorded in Delhi, as per reports.
The air analysis done by SAFAR reads, "Fire emission from upwind region enhances PM2.5 concentration as winds at transport level are from the northwest region. Stubble-burning share is likely to increase in the next two days if there is no rain. The overall AQI is likely to further degrade to the higher end of poor for next three days."
Season after season, the main reason behind the swift decline of Delhi's air quality in the winters is farm fires or stubble burning. Farm fires occur when farmers set their fields on fire to quickly clear off the crop residue before cultivating wheat and potato.
(With agency inputs)
[ad_2]
Courtesy – www.dnaindia.com