[ad_1]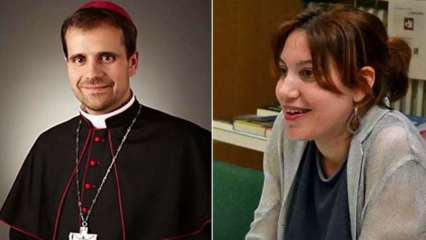 The exact reason for Spain's youngest bishop Xavier Novell to quit his post last month has finally come out in the open. Back then the Roman Catholic Church had cited strictly personal reasons without delving into detail. This left people guessing.
Spanish media has now revealed that Xavier Novell fell in love with a woman who writes Satanic-tinged erotic fiction. The 38-year-old divorcee named Silvia Caballol is a psychologist and erotic novelist. Xavier Novell reportedly said he had 'fallen in love' and 'wanted to do the right thing'.
After quitting his position, the former bishop is now looking for a job in the Barcelona area as an agronomist, the news website wrote.
At the age of 41, Xavier Novell became Spain's youngest bishop in 2010, in Solsona in the north-eastern region of Catalonia. Seen as a rising star in Spain's Catholic Church, his decision to vacate his position with the Vatican's approval comes as a huge surprise. He is said to have met several times with Vatican officials as well as the Pope himself.
Controversial views of Xavier Novell 
He backed so-called conversion therapy for gay people and carried out exorcisms.
Xavier Novell was traditional in his remarks on abortion but had strident views on homosexuality.
Novell defended gay conversion therapy and described abortion and euthanasia as 'genocide'.
The former bishop Xavier Novell had outspoken support for Catalonian independence.
Media reported he had fallen for divorcee Silvia Caballol, a psychologist and erotic novelist. 
Novell was the only bishop to openly vote in the 2017 controversial Catalan independence referendum illegal under Spanish law. 
[ad_2]
Courtesy – www.dnaindia.com