[ad_1]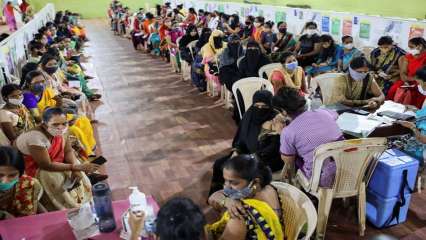 World's largest COVID-19 inoculation drive started in India in January is expected to touch the historic 100-crore mark today. The government has planned massive celebrations across the country to mark the milestone.
On this occasion, Union Health Minister Mansukh Mandaviya on Wednesday took to Twitter to appeal to all those who are eligible to get inoculated without delay and contribute to the historic vaccination journey of India.
"The country is close to making a vaccine century. To be a part of this golden opportunity, I appeal to the citizens who are yet to be vaccinated to contribute to this historic golden vaccination journey of India by getting vaccinated immediately," he tweeted in Hindi.
देश वैक्सीन शतक बनाने के करीब है।

इस स्वर्णिम अवसर के सहभागी बनने के लिए देशवासियों से मेरी अपील है कि जिनका वैक्सीनेशन बाकी है वो तत्काल टीका लगवाकर, भारत की इस ऐतिहासिक स्वर्णिम टीकाकरण यात्रा में अपना योगदान दें।

— Dr Mansukh Mandaviya (@mansukhmandviya) October 20, 2021
To mark the milestone on the COVID-19 vaccination drive, the largest Khadi tricolour in the country, weighing around 1,400 kg, will be displayed at the Red Fort. On the other hand, Health Minister Mansukh Mandaviya will launch a song by singer Kailash Kher and an audio-visual film at the Red Fort.
SpiceJet will unveil a special livery at the Delhi airport to celebrate the 100 crore vaccine milestone on Thursday. Besides, announcements will be made on planes, ships, metros and at railway stations when India achieves its target of administering 100 crore doses.
Celebrations will also be held at central government hospitals in the city to mark the occasion. India administered 99.7 crore COVID vaccine doses till Wednesday.


[ad_2]
Courtesy – www.dnaindia.com