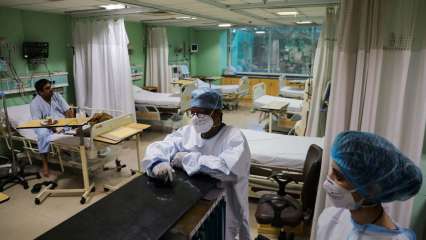 India reported 37,875 new COVID-19 cases and 369 deaths in the past 24 hours, the Union Health Ministry data showed. With this addition, the country's COVID-19 caseload rose to over 3.3 crores (3,30,96,718), while the death toll increased to more than 4.41 lakh (4,41,411). Kerala alone recorded 25,772 cases and 189 deaths in the last 24 hours.
Meanwhile, 39,114 patients recovered from the disease in the same period, active cases currently stand at around 3.91 lakh (3,91,256). Active COVID-19 cases in India account for 1.18% of total cases. The recovery rate is 97.48%. So far 70.75 crore doses of vaccines (78,47,625 in the last 24 hours) have been administered across the country, the government said. 
Pointing to a sudden spike in cases, Mumbai city Mayor Kishori Pednekar has informed that the third wave of COVID-19 has already hit upon the financial capital. "The third wave of COVID-19 is not coming, it is here," said Kishori Pednekar.
On Tuesday, Pimpri-Chinchwad recorded 176 new COVID-19 positive cases, taking the active cases count to 1,338. 
India reports 37,875 new #COVID19 cases, 39,114 recoveries and 369 deaths in last 24 hours, as per Health Ministry.

Total cases: 3,30,96,718 Active cases: 3,91,256 Total recoveries: 3,22,64,051 Death toll: 4,41,411

Total vaccination: 70,75,43,018 (78,47,625 in last 24 hours) pic.twitter.com/jDuSq7ZT5s

— ANI (@ANI) September 8, 2021
On the other hand, Kerala Chief Minister Pinarayi Vijayan said that the state government has decided to do away with the night curfew and Sunday lockdown restrictions in the state. The Nipah virus has emerged as another threat, prompting the state to further heighten the alertness of its health system.



Courtesy – www.dnaindia.com