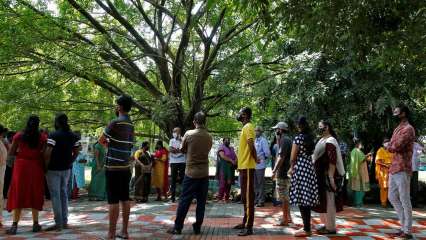 India recorded 25,404 new COVID-19 cases in the past 24 hours, taking the country's overall tally to 33,289,579, according to data updated by the Ministry of Health and Family Welfare. With 339 new cases of people dying due to COVID-19, the death toll has climbed to 4,43,213.
Kerala recorded 15,058 new COVID-19 cases, 28,439 recoveries, and 99 deaths in the last 24 hours.
The count of active cases declined to 3,62,207, which comprises 1.09% of the total infections, while the national COVID-19 recovery rate was recorded at 97.58%, the Health Ministry data showed. A reduction of 12,062 cases has been recorded in the active COVID-19 caseload in a span of 24 hours.
The daily positivity rate was recorded at 1.78%. This has been below three percent for the last 15 days.
The cumulative number of COVID-19 vaccine doses administered in the country so far under the nationwide vaccination drive has reached 75.22 crores, according to the Health Ministry.
District wise caseload
Thane has reported 249 new COVID-19 cases taking the infection tally to 5,54,893, an official said on Tuesday.
The COVID-19 mortality rate in Thane stood at 2.04%. With eight more deaths, the fatality toll in the district has reached 11,351.
In Palghar district, the COVID-19 case count has gone up to 1,35,147, while the death toll has reached 3,272. 
With 15,058 new infections, Kerala contributed the most to India's COVID-19 tally.
North-South divide in COVID-19 cases
Maharashtra along with southern states recording more COVID-19 cases than the rest of India since the first wave.
In the week ending Sunday, Maharashtra and the five southern states, along with the UT of Puducherry recorded nearly 2.2 lakh fresh cases.
Kerala alone accounted for more than 1.7 lakh new infections, followed by Tamil Nadu (11,161) and Andhra Pradesh (8,660).
Excluding Maharashtra and Goa, the cumulative cases in 14 states and UTs of north and central India during this period were just 3,687.

Courtesy – www.dnaindia.com