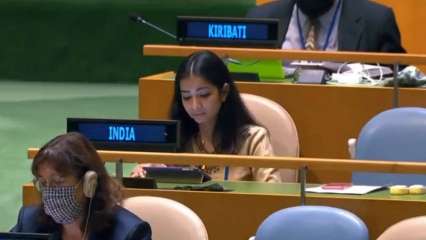 India on Friday exercised its right to reply to Pakistani Prime Minister Imran Khan's statements at the United Nations General Assembly, over its references to Kashmir. Imran Khan raised the August 2019 decision by India to Abrogate Article 370 that ends Jammu and Kashmir's special status. PM Khan also raised the topic of the death of pro-Pakistan separatist leader Syed Ali Shah Geelani.
In reply, India said that Pakistan has an established history and policy of harbouring, aiding and actively supporting terrorists. Using strong words to put forward India's side and counter Imran Khan's statement, First Secretary Sneha Dubey said that Pakistan holds the ignoble record of hosting the largest number of terrorists proscribed by the United Nations Security Council. 
"Osama Bin Laden got shelter in Pakistan. Even today, Pakistan leadership glorifies him as a martyr," First Secretary said on Friday. She further added that Pakistan is an 'arsonist' disguising itself as a 'firefighter'. The entire world has suffered because of its policies as the country nurtures terrorists in its backyard, she said.
First Secretary added that it was not the first time the leader of Pakistan had misused platforms provided by the United Nations to propagate false and malicious propaganda against India, seeking to divert the world's attention from the sad state of their own country. 
Sneha Dubey pointed out that Pakistan is a country that has been globally recognized as one openly supporting, training, financing and arming terrorists as a matter of State policy. Unlike Pakistan, India is a country with free media and an independent judiciary that keeps a watch and protects our Constitution, she added.
India also strongly reiterated that the entire Union Territories of Jammu-Kashmir and Ladakh 'were, are and will always be an integral and inalienable part of India', including areas that are under the illegal occupation of Pakistan. "We call upon Pakistan to immediately vacate all areas under its illegal occupation," First Secretary said.

Courtesy – www.dnaindia.com