[ad_1]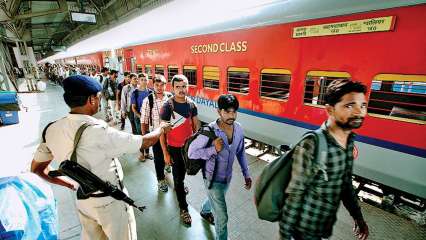 The Indian Railway Catering and Tourism Corporation (IRCTC) has decided to launch the Jyotirlinga Darshan Yatra special train from today with the purpose of boosting pilgrimage to the four prominent 'Jyotirlinga' sites of the country.
There are a total of 12 prominent Jyotirlinga shrines that are dedicated to Lord Shiva, most of which are located in India, while some are in Nepal. The Jyotirlinga Darshan Yatra train will travel to four out of these 12 shrines, which are Mahakaleshwar, Omkareshwar, Somnath, and Nageshwar Jyotirlinga.
The special train by IRCTC will start its first journey from today, October 21, from the Prayagraj Sangam station in Uttar Pradesh. This train will take pilgrims on a 10-day tour across all the popular sacred sites included in this yatra.
IRCTC Jyotirlinga Darshan Yatra train: Price and other details
The IRCTC Jyotirlinga Darshan Yatra trains will be visiting four major sites of the pilgrimage- Mahakaleshwar, Omkareshwar, Somnath, and Nageshwar Jyotirlinga.
Apart from the four sacred sites in the route, the special train will also facilitate a visit to the Statue of Unity and Udaipur for the passengers.
The total duration of this trip is 10 nights and 11 days, and the entire package has been priced at Rs 10,395 per person.
The Jyotirlinga Darshan train will begin its journey from Prayagraj, Uttar Pradesh but passengers will be allowed to board the train from several locations- Pratapgarh, Amethi, Rae Bareli, Lucknow, Kanpur, Etawah, Bhind, Gwalior, and Jhansi.
The special train package will also include meals for the passengers. The passengers will be served vegetarian breakfast, lunch, and dinner throughout the journey.
The Jyotirlinga Darshan Yatra trains will be of the non-air-conditioned Sleeper class train variety.
The package will also include non-air-conditioned hall accommodation at places of night stay/morning freshening up, tour escorts for announcements and information, non-air-conditioned tourist buses for visiting sightseeing spots, security arrangements for each train coach (without arms), and travel insurance.
Interested travelers can book the IRCTC Jyotirlinga Darshan tour by visiting the official website of IRCTC Tourism or downloading its application to make the booking. There are multiple packages associated with the Jyotirlinga Yatra so take your pick accordingly.
[ad_2]
Courtesy – www.dnaindia.com