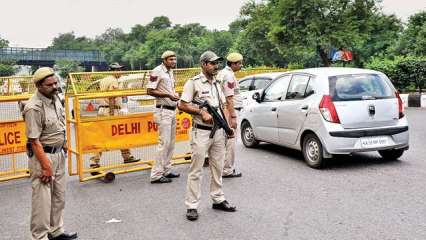 The Delhi Police has got major success in the campaign against terror. A total of six terrorists have been arrested by the Special Cell after raids in different places in Uttar Pradesh, Maharashtra and Delhi. It is suspected that these terrorists are linked to ISI and the underworld module.
According to the information, the training of two terrorists of Pakistan-sponsored Terror Module was done in the neighbouring country itself. A huge quantity of ammunition and weapons have been recovered from these terrorists. The names of Pakistan-trained terrorists are being told as Osama and Zishan. In the preliminary information, it has been revealed that there was a plan to carry out a major terrorist incident before the assembly elections of Uttar Pradesh.
Delhi Police says that the arrested terrorists were trying to carry out terrorist acts across the country. These terrorists were planning blasts as well as could target well-known people through target killing. Police said that IED and RDX have also been recovered from the terrorists.
In a press conference, the Delhi Police informed that raids were conducted in several states simultaneously on Tuesday morning. After this, one suspect Sameer has been arrested from Maharashtra while two terrorists have been arrested from Delhi. Police said that they had gone to Pakistan via Muscat for training and after that, they were working as sleeper cells in India.
Police said that these terrorists were planning to blast IEDs in different parts of the country during the festive season. During Dusshera and Navratri, they could explode in the country. They had taken training in making bombs in Pakistan itself. According to the police, the terrorists were operating by forming two groups and one of their groups was working to raise funds.
Uttar Pradesh ADG Prashant Kumar said that the terrorists have been arrested after raids in four districts. He informed that the IED was defused in Prayagraj and raids are also being conducted to find other accused. The matter is being investigated.

Courtesy – www.dnaindia.com