Assembly Election Results 2021 LIVE: Highlights At This Hour
BJP+ maintains lead on 80 seats, Congress slips to 46 seats. Counting of votes underway. Final picture expected to be clear by evening.
Mamata Banerjee is now leading by 1500 votes against BJP's Suvendu Adhikari in Nandigram. Counting of votes underway.
Official trends for 284 seats—Trinamool Congress leading on 202 seats, BJP leading on 88. TMC supporters celebrate in Kolkata as party leads on 202 seats.
In Bengal, TMC now leading on 191 seats, BJP- 98, Left+ 01, Others- 02.
TMC leading on 176 seats, BJP 108 as per initial trends. Though the BJP has improved its tally, the party still is way behind of majority mark 148 as of now. In high-profile Nandigram, BJP's Suvendu Adhikari leading by more than 8,000 votes over CM Mamata Banerjee. Reacting to the trends, senior BJP leader Kailash Vijavargiya said,'Too early to say anything because there are so many rounds. The situation will be clear only by evening. We had started from three (seats in 2016) and were challenged that we will not get even 100, we have crossed that mark. We will cross the magic number too."
In Tamil Nadu, The MK Stalin-led DMK is leading in 133 seats; AIADMK ahead in 100 seats. Makkal Needhi Maiam chief Kamal Haasan leading from Coimbatore (South) constituency. Key candidates in the fray and their constituencies are: Palaniswami (Edappadi), Deputy Chief Minister O. Panneerselvam (Bodinayakkanur), Stalin (Kolathur), his son Udhayanidhi Stalin (Chepauk-Tiruvallikeni), DMDK Treasurer and Vijayakant's wife Premalatha (Vridhachalam), actor Khushbu Sundar (Thousand Lights), TN BJP Vice President K. Annamalai (Aravakurichi), PMK's G.K.Mani (Pennagaram) and Seeman (Tiruvottriyur).
In Assam, the ruling BJP-led NDA is leading on 81 seats, while the Grand Alliance led by the Congress is ahead on 45 assembly constituencies, showed early trends. Chief Minister Sarbananda Sonowal, Health Minister Himanta Biswa Sarma and AGP chief and minister Atul Bora are leading from Majuli, Jalukbari and Bokakhat seats respectively. Congress Legislative Party leader and his deputy Debabrata Saikia and Rakibul Hussain both are trailing from Nazira and Samaguri respectively.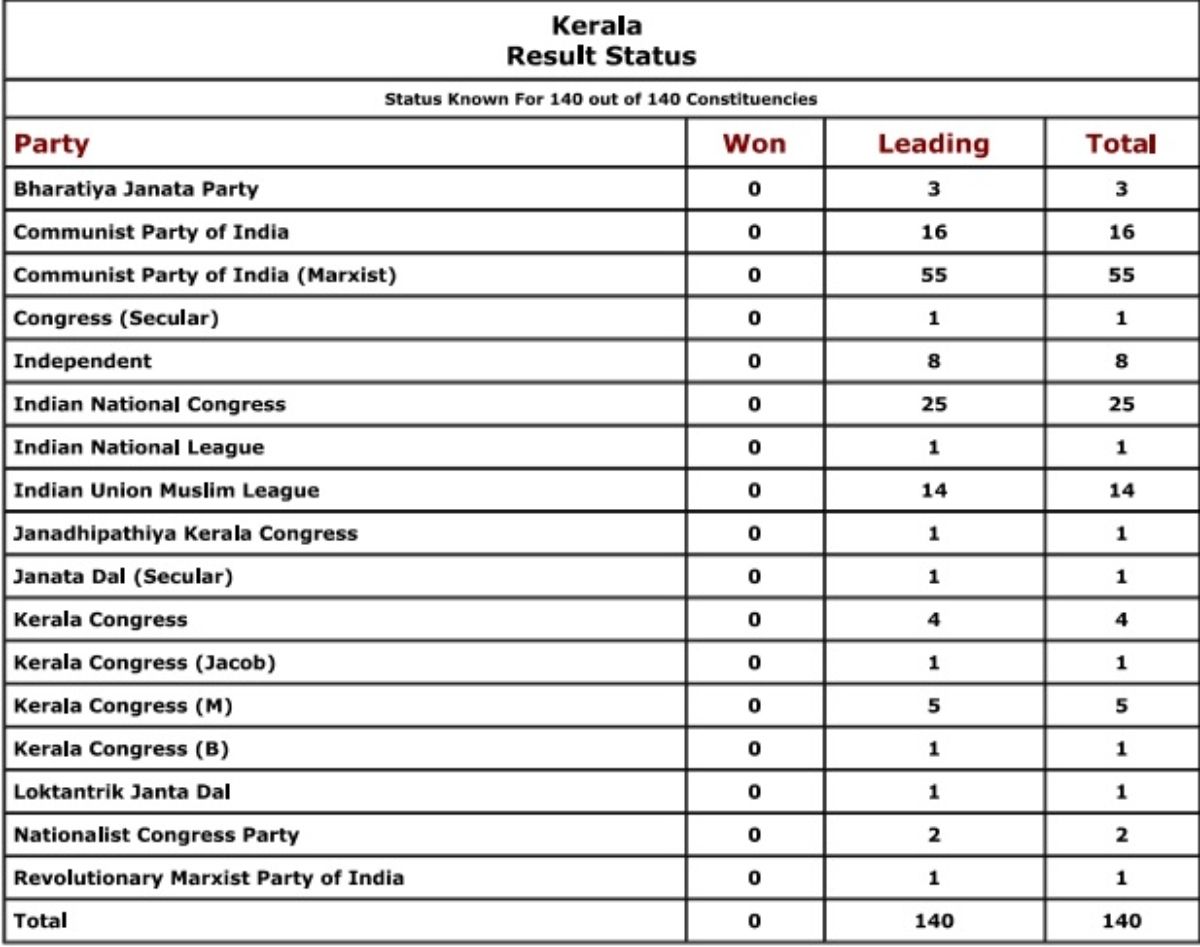 In Kerala, Left continued to maintain its lead over the Congress-led-UDF. Metro Man E Sreedharan is leading from Palakkad seat. E Sreedharan has joined the saffron party in February and was being projected as the NDA's CM candidate. All the exit polls had predicted a clean victory for the Pinarayi Vijayan-led Left with a minimum of 75 seats and a maximum of 120 seats.
Please note, these early trends are based on postal ballots and initial rounds of EVM votes.
Live Updates
Courtesy – India.com