[ad_1]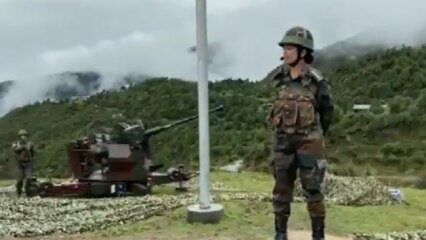 As the stand-off between the Indian and Chinese Army continues with rising tensions, India is taking tough measures to prepare itself for any future consequences. This includes upgrading and deploying the latest ammunition and defence systems for the Line of Actual Control (LAC).
The Indian Army has decided to deploy the upgraded vintage L-70 air defence guns, among other big defence systems, in Tawang, Arunachal Pradesh along the India-China border. Captain Sariya Abbasi, who belongs from one of the first AD regiments in the country to be equipped with the guns, explained all about the upgraded L-70 air defence guns.
Indian Army Captain Sariya Abbasi, while talking about the L-70 air defence guns, said, "The gun is able to take fire and engagement projected duration of time. It can now be integrated with tactical control radar and fire control radar."
#WATCH | Indian Army's Captain Sariya Abbasi briefing about the Upgraded L-70 air defence guns deployed at forward location along the Line of Actual Control near Tawang area in Arunachal Pradesh pic.twitter.com/FFlRaigmoz

— ANI (@ANI) October 20, 2021
As per Abbasi, the upgraded guns can spew out predictive fire after automatically detecting the threat, making it effective against low flying objects and swarm drones. She further added that the Muzzle Velocity Radar enhances the accuracy of the gun.
Captain Sariya Abbasi further explained that the upgraded L-70 anti-aircraft guns can also target all types of unmanned vehicles, unmanned warplanes, helicopters and modern aircraft, which can remain undetected by the older equipment.
Apart from the L-70 air defence guns, the M-777 howitzers and Swedish Bofors guns have also been deployed at the high-altitude areas to add to more firepower against any potential attack from the Chinese Army.
The L-70 air guns have been part of the Indian defence system since the 1960s but have now been upgraded and equipped with the latest technology. Around 200 L-70 guns have been upgraded by the BEL for Rs 575 crore, as per reports.
Who is Captain Sariya Abbasi?
Captain Sariya Abbasi is an inspiration to all women who want to be a part of the Indian Army. Captain Abbasi is a troop commander with an Army Air Defence Regiment deployed near the contested LAC in the Tawang sector.
Captain Abbasi has been a part of the Indian Army for four years now and is currently posted in the Tawang region of Arunachal Pradesh, on the Line of Actual Control (LAC). She came in the headlines as she spoke to media outlets about the recently deployed upgraded L-70 air defence guns.
Sariya Abbasi belongs from Gorakhpur, Uttar Pradesh and she has a B.Tech degree in Biotechnology. Her father, Dr Tehseen Abbasi, is a retired station director from All India Radio while her mother is serving as a principal in a government school in Gorakhpur.


[ad_2]
Courtesy – www.dnaindia.com