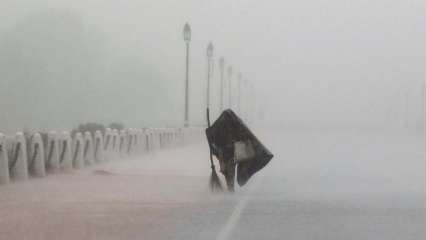 An English proverb by the name 'Better late than never' can aptly be used for this year's monsoon rains in Delhi. This year the national capital witnessed one of the most delayed and erratic monsoons. However, it still managed to receive 80% above normal rainfall this season.
According to the India Meteorological Department (IMD) data, Delhi yielded 1,169.7 mm of rainfall this year, the third-highest since data has been maintained. This is expected to further increase as the monsoon season is yet to be over. Last year, the capital received just 576.5 mm of precipitation.
This is the third time the monsoon rainfall in Delhi breached the 1,000 mm mark. The all-time record is the 1,420.3 mm rainfall that Delhi received in 1933. The India Meteorological Department (IMD) data says India recorded 1,155.6 mm of rainfall in 1975 and 1,190.9 mm in 1964.
While Central Delhi, New Delhi and North Delhi recorded 'large excess' rainfall, northwest Delhi and southwest Delhi recorded 'excess' rainfall this season. West, south and east Delhi got 'normal' precipitation, only northeast Delhi recorded 'deficient' rainfall.
September month particularly recorded very high rainfall of 413.3 mm. This is the highest after 417.3 mm precipitation recorded in September 1944 and the second-highest in 121 years. Despite the monsoon arriving in Delhi very late on July 13, making it the most delayed in 19 years, the capital recorded 16 rainy days in that month. This is the maximum recorded for the month of July in the last four years.

Courtesy – www.dnaindia.com