The general public has urged the government to impose a lockdown as the country's death toll from the coronavirus has surpassed 100, with more than 1,000 COVID-19-positive cases reported nationwide.
The Health Ministry's disease control and prevention director general, Achmad Yurianto, announced on Saturday that authorities had recorded 1,155 cases of COVID-19 across 29 provinces, with 102 deaths from the disease. At least 59 patients have recovered.
The country's fatality rate, the ratio of confirmed cases to fatalities, is 8.83 percent – among the highest in the world.
Jakarta has the most cases in Indonesia with 627, an increase of 38 compared to previous day. The areas in Java with the highest number of cases after Jakarta are West Java with 119 cases, Banten (103), East Java (77) and Central Java (55).
South Sulawesi is the hardest-hit region outside Java with 33 cases.
"We are still concerned about this situation because this is proof that transmissions are still occurring. [Individuals carrying the virus] are still out there and having close contact with other people," said Yurianto, who also serves as the government's spokesperson for COVID-19-related matters.
President Joko "Jokowi" Widodo himself has remained adamant about not imposing lockdowns due to social and economic concerns. He has instead called on the public to stay at home and urged authorities to push for more rapid testing to map the spread of the disease.
However, the number of COVID-19 cases and fatalities shows no signs of slowing down. Among the fatalities were medical workers dealing with a scarcity of proper medical and protective equipment.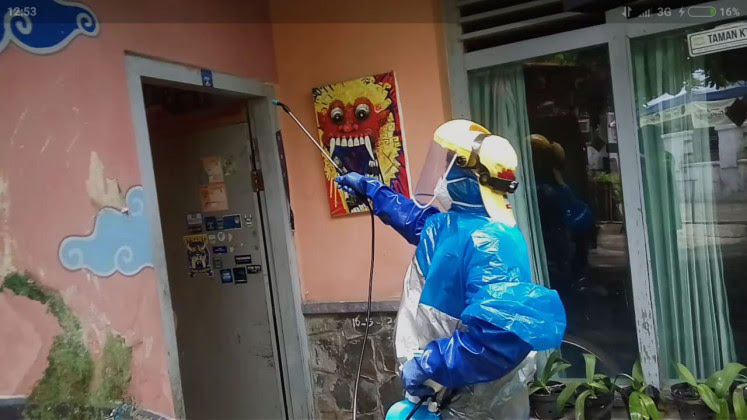 A resident of a kampung near Taman Sari Water Castle in Yogyakarta sprays disinfectant on a house on March 28, 2020. (Courtesy of/Kampung Cyber)
The Medical Professors Council from the University of Indonesia's School of Medicine was among the groups that urged the government to impose regional lockdowns, arguing the government's policy of physical distancing was not effective in curbing the spread of the disease.
"Strict rules are needed to make sure people stay at home. [The government] should apply fines for individuals or companies that violate the rules," the council's chair, Siti Setiati, wrote on Friday.
The council estimated the government would need to prepare around Rp 4 trillion (US$249 million) to ensure the health and safety of 9.6 million Jakarta residents during a two-week lockdown in the capital city.
It also argued a lockdown was feasible if the country allocated a portion of tax money toward fighting the pandemic.
Sociologist Ariel Heryanto echoed the council's call on his Twitter account: "Mr. President, is there still a reason to delay a lockdown?"
Courtesy – The Jakarta Post