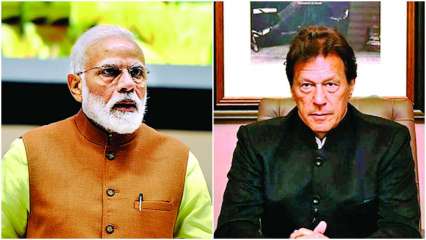 Pakistan Prime Minister Imran Khan, in an interview to the Middle East Eye recently, spoke openly about China-Pakistan friendship, US-Pakistan tensions, close India-Israel relations, the situation in Afghanistan and BCCI's growing dominance in world cricket. However, Imran Khan has been trolled on social media for a claim he made about India and Israel. 
In August 2019, Pakistan had strongly opposed the Centre's decision to scrap the provisions of Article 370, which gave special statehood to Jammu and Kashmir. Pakistan had objected to the decision at the United Nations, as well. 
Now, Imran Khan has said that PM Modi had decided the abrogation of Article 370 in Kashmir soon after the latter's visit to Israel. He said India is taking inspiration from Israel itself. Soon after, the Pakistan PM  started getting trolled on social media. In fact, Prime Minister Modi visited Israel in July 2017 and abrogation of Article 370 was done in  August 2019 – two years later.
Imran was asked in the interview how dangerous is the friendship between India and Israel as the situation in Palestine and Kashmir is similar. On this, Imran Khan said that there is no doubt that India and Israel are very close. Soon after his visit to Israel, Indian Prime Minister Narendra Modi implemented such a big policy on Kashmir. This can mean that they received a signal from Israel because Israel is doing the same. They have built a strong mechanism and are crushing any kind of opposition. Being part of the US alliance against China, India is now beginning to feel that they have the same immunity as Israel and can do anything.
Imran Khan gets trolled for his statement
Soon after making this statement, Imran Khan has been getting trolled on social media. A Twitter user wrote: "Almost 2 yrs & one month long duration b/w PM @narendramodi 's July 17 visit to Israel and Aug 19 repeal of 370; but for @ImranKhanPTI – so used to writing alternate history-  25 months difference is immediately thereafter! 
Kya namoona chuna hai @OfficialDGISPR ne!"
In a comment on the tweet, one person said that tension should not be taken about Imran Khan. He will take another U-turn after talks with Pakistani military officer Bajwa. To be honest, he deserves to be the coach of the Pakistani cricket team more, but no one is willing to listen to him. 
now #ImranKhan is blaming #Israel for abrogation of 370 from #Kashmir. This man has some serious problem. #Pakistan pic.twitter.com/P1bwTZiq0O

— विकास त्रिपाठी (@vikasjournolko) October 11, 2021
Another Twitter user wrote: "now #ImranKhan is blaming #Israel for abrogation of 370 from #Kashmir. This man has some serious problem." While, another Twitter user wrote that Pakistan's two most important enemies are Israel and India and they keep changing things against them on their own.



Courtesy – www.dnaindia.com