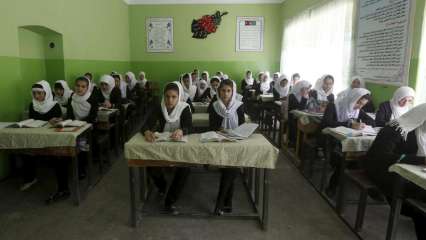 The new cabinet of Taliban leaders has been announced in Afghanistan with the formation of the new government. In the 33 member cabinet announced by the Taliban, the Ministry of Education has been given to Sheikh Molvi Noorullah Munir.
As per media reports, Taliban education minister Munir has said that PhD and master's degrees are not very valuable in Afghanistan as the mullahs don't have them, yet they hold the most power and are the 'greatest of all'.
"No PhD degree, Master's degree is valuable today. You see that the mullahs and Taliban [leaders] that are in the power, have no PhD, MA or even a high school degree, but are the greatest of all," the newly appointed education minister said, as per local reports.
Recently, news also emerged that the Taliban has modified the classrooms in Afghanistan to separate the male and female students. In the photos, female students and male students could be seen sitting on the opposite sides of the classroom, with a curtain separating them.
Ever since the Taliban assumed control of Afghanistan last month, many citizens have been concerned over the state of the education system and the safety of women in the country. Many have also tried to flee Afghanistan, searching for a safe haven in neighbouring countries.
The Taliban, on Tuesday, announced the names of all the key leaders who will be forming the cabinet in Afghanistan. The government will be led by Mullah Mohammad Hasan Akhund, along with most of the positions being given to high profile Taliban members.
The Taliban had announced before forming the cabinet, that they want an inclusive government for Afghanistan, though all of the cabinet ministers announced yesterday were members of the militant group.

Courtesy – www.dnaindia.com