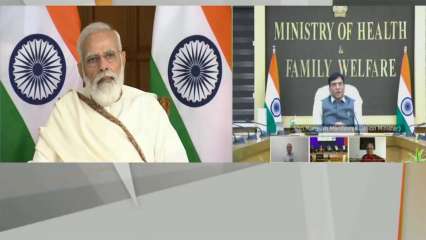 A day after India achieved the one billion COVID-19 vaccinations milestone mark, Prime Minister Narendra Modi is addressing the nation today. During his address, PM Modi praised the country for getting together to reach this landmark. India scripted history by becoming only the second country after China to reach the one billion COVID-19 vaccinations milestone mark.
PM Narendra Modi said that the 100 crore vaccine dose achievement belongs to all 130 crore Indians. PM Modi congratulated all Indians for the major milestone achieved on Thursday. "This is not just a number, it is a beginning of a new chapter, a new India," PM Modi said.
In his address, PM Modi said that there was a lot of pressure from different interest groups to give preferential treatment to them in vaccination. But the government ensured that, like our other schemes, there is no VIP culture in the vaccination drive.
Earlier in the day PMO India tweeted and informed that Prime Minister Narendra Modi would address the nation today at 10 am. "PM Narendra Modi will address the nation at 10 AM today," read a one-line tweet by his office.
"PM Modi, in an opinion piece today, described India's vaccination drive as a journey from 'anxiety to assurance' that has made the country emerge stronger, and credited its success to people's trust in the vaccines despite 'various efforts to create mistrust and panic'. The landmark figure was achieved in nine months despite many doubting the country's capability, he said," PMO India tweeted.
As the country reached the 100 crore vaccinations milestone mark on Thursday, PM Modi congratulated the country's health care workers for helping the country achieve the feat.
The nationwide vaccination drive against the COVID-19 disease began this year on January 16 with indigenously made Covaxin and Covishield vaccines. Since then, four other vaccines have received emergency use authorisation (EUA) by the Drugs Controller General India (DCGI). 

Courtesy – www.dnaindia.com