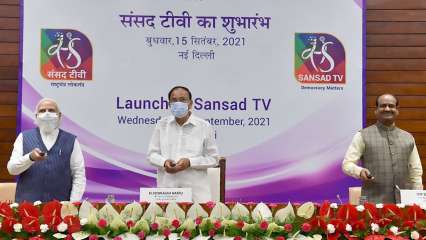 Prime Minister Narendra Modi, along with Vice President M Venkaiah Naidu and Lok Sabha Speaker Om Birla, on Wednesday launched the Sansad TV.The launch date coincides with the International Day of Democracy, as per the official communique by the Prime Minister's Office.
Sansad TV has been launched after merging the Lok Sabha TV and Rajya Sabha TV channels.
Addressing the event, the Prime Minister lauded the transformation of the channel associated with the Parliament in accordance with rapidly changing times. "The launch of Sansad TV is a new chapter in the story of Indian democracy as, in the form of Sansad TV, the country is getting a medium of communication and dialogue which will become a new voice of the nation's democracy and people's representative," the PM said.
The 24-hour channel, through its content, will showcase the democratic ethos and the functioning of democratic institutions of the country with an aim to target national and international audiences.
In February 2021, the decision to merge Lok Sabha TV and Rajya Sabha TV was taken and Ravi Capoor- a retired IAS officer, was appointed as its CEO in March.
Sansad TV will merge the two parliamentarian channels Lok Sabha TV and Rajya Sabha TV. This decision to make a single, new entity was taken in February 2021 with the CEO of Sansad TV appointed the next month.
The new channel will air programmes divided into four main categories. Sansad TV will air the functioning of Parliament and democratic institutions, governance and implementation of schemes/policies, history and culture of India and issues/interests/concerns of contemporary nature.
Sansad TV will include Lok Sabha TV which has been running since July 2006. The idea of creating the 24×7 Parliamentary channel was reportedly conceived by former Lok Sabha Speaker Somnath Chatterjee with the objective to apprise people of the parliamentary proceedings and what elected representatives say in the Parliament.
On the other hand, Rajya Sabha TV covered the Upper House of the Indian parliament and was owned and run by Rajya Sabha.

Courtesy – www.dnaindia.com