[ad_1]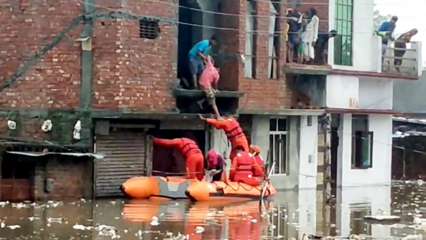 The India Meteorological Department (IMD) on Tuesday issued a rain alert for Thiruvananthapuram, Pathanamthitta, Kottayam, and other districts in rain-battered Kerala for three days. Other districts that have been issued with an orange alert include Ernakulam, Idukki, Thrissur, Palakkad, Malappuram, Kozhikode, Wayanad and Kannur districts. A yellow alert has been sounded in Kasargod, Alapuzha and Kollam district for October 20. 
The IMD has also said that the "worst seems to be over" for Uttarakhand and now the intense rainfall activity is expected to shift eastwards to Uttar Pradesh, Bihar, Sikkim, Jharkhand, Odisha, West Bengal, and most parts of the northeastern region, according to a newspaper report stated. "The easterlies will interact with the low-pressure system prevailing over north Jharkhand, Bihar and west Uttar Pradesh. As a result, heavy rain is likely mainly over the northeast, Bihar and east Uttar Pradesh on Wednesday," an IMD official said.
Several parts of Uttarakhand, including Nainital, Almora and Ranikhet have been cut-off and made inaccessible by the rest of the state after the heavy rainfalls triggered a series of landslides. Rescue operations are being carried out in the state by the Indian Army, National Disaster Relief Force (NDRF), and local authorities. As many as 46 people have died due to the rains, and several dozen people have been reported missing in the state.
Meanwhile, places falling on the banks of the Periyar river in Kerala have been put on high alert by the Ernakulam district administration as the water released from the Idukki dam has reached flood-prone areas of Aluva in Kochi on Wednesday morning. 
As a precautionary measure in view of the torrential rains in Kerala, three shutters of the Idukki dam were opened at 11 am on Tuesday, releasing around one lakh litres of water per second from the Idukki dam.
According to official estimates, heavy rains in Kerala have claimed the lives of 27 people. Of these, 14 deaths were reported in the Kottayam district, 10 in the Idukki district, and one each in Thiruvananthapuram, Thrissur and Kozhikode districts.
With agency inputs
[ad_2]
Courtesy – www.dnaindia.com