[ad_1]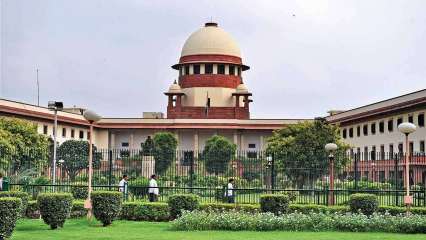 The Supreme Court has expressed displeasure over the closure of roads by farmers protesting at the borders of Delhi. During the hearing of a petition filed to remove the farmers from the Delhi border, the court said that there can be debates about the agriculture law, but the question is, can roads be closed? 
The apex court has given time till December 7 to the farmers' organizations to file a response regarding their removal from the road.
During the hearing, Justice SK Kaul said that the roads should be clean, we cannot keep framing the law again and again, you have the right to agitate but cannot block the road. Now some solution has to be found. He said that even when the matter is sub-judice, they have the right to protest but the roads cannot be blocked. Roads are for people to come and go. We have a problem with the issue of road jams.
Solicitor General Tushar Mehta, appearing for the Central Government, said that the issue of January 26 was serious.
The Supreme Court said that we have issued notices to 43 farmer organizations. But only two organizations have responded. Farmer unions' lawyer Dushyant Dave said that the road has been closed by the police, not us. BJP was allowed to hold a rally at Ramlila Maidan, we should also be allowed. On this, the Solicitor General said that there are many serious aspects of the matter. Dave said that there are fabricated things to defame the farmers. All the accused have got bail in the Red Fort case.
Solicitor General Tushar Mehta said that there are some hidden motives behind this demonstration. On this, Dushyant Dave, the lawyer of the farmers' organization, said that the government did not talk to the farmers before passing the law and now accusing them. He said that let the protesters come to Ramlila Maidan, the road will be empty. To this, the Solicitor General said that the permanent house of some people should be made in Ramlila Maidan itself.
The next hearing on the petition filed to remove the farmers from the Delhi border will be held on December 7.
[ad_2]
Courtesy – www.dnaindia.com