The United Nations' warning that up to two million people could die of coronavirus in Bangladesh was based on the assumption that no steps were being taken to contain the spread, a senior official from the country said, stressing that a raft of measures are already in place.Bangladesh has implemented social distancing policies; shut down malls, shops and restaurants; and suspended all domestic and international flights, except flights to and from China, Minister of State for Foreign Affairs Mohammed Shahriar Alam told This Week In Asia, adding that the country was working closely with others to fight the pandemic and had received medical supplies from China and India.
"[The UN report] was based on the assumption of 'no interventions'," he said. "As you can very well imagine we have taken numerous measures."
As of Tuesday, Bangladesh had confirmed 51 cases of Covid-19 in the country of 160 million people, with five deaths.
However, these relatively low numbers have done little to quell mounting fears that the pandemic will batter the country's economy, with the Bangladesh Garment Manufacturers and Exporters Association saying on Monday that US$3 billion of garment orders have been cancelled or put on hold across the nation's factories.
More than one million garment workers in Bangladesh have already been fired or furloughed because of order cancellations, according to a recent online survey by Pennsylvania State University's Centre for Global Workers' Rights.
Last week, online news outlet Netra News quoted a leaked United Nations report as saying that between half a million to two million people could die of Covid-19 in Bangladesh, given the "extraordinary human densities" in the country.
The report, titled "Country Preparedness and Response Plan" and dated March 26, said that while preparedness has improved in some facilities at the national level, health care workers and medical facilities were generally unprepared for managing suspected and confirmed patients.
"The challenges in Bangladesh are compounded by a weak health system and the risks of a complete saturation of the health system early in the epidemic, leaving patients in severe or critical condition from [Covid-19] or other conditions without adequate health care facilities throughout much of the epidemic," it said.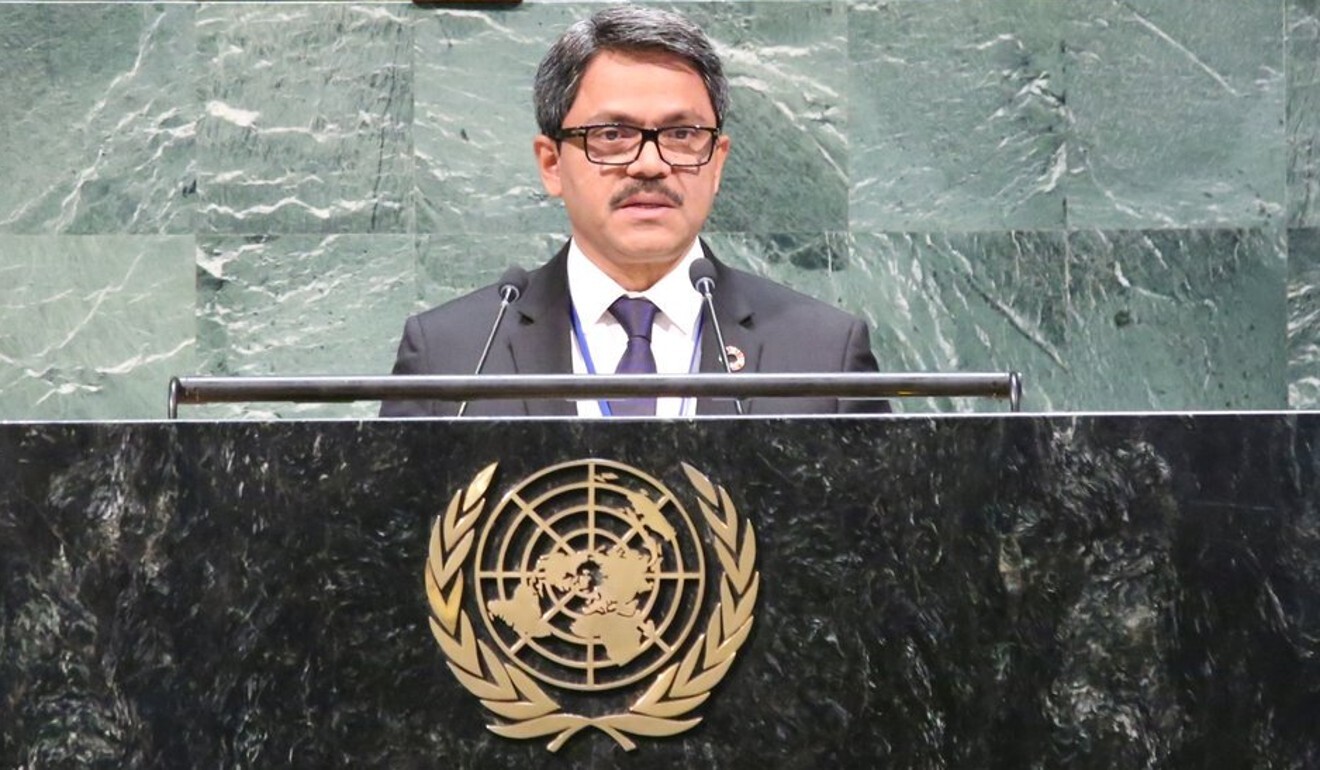 Alam, the minister, said in response that 753 health care professionals have been trained to handle Covid-19 patients, and more than 317,000 pieces of personal protection equipment (PPE) have been provided to health care workers across the country.
Six laboratories in the capital of Dhaka are able to conduct Covid-19 tests, with an additional four in the final stages of being set up, he said.
"Sufficient amount of testing kits have now been arranged for fulfilling the demand," he said.
The government has also promised financial help to workers in export-oriented industries, with food and cash to be given to low-income groups for up to six months.
"We have received testing kits and PPEs for medical professionals from the government of China and the Jack Ma Foundation," he said.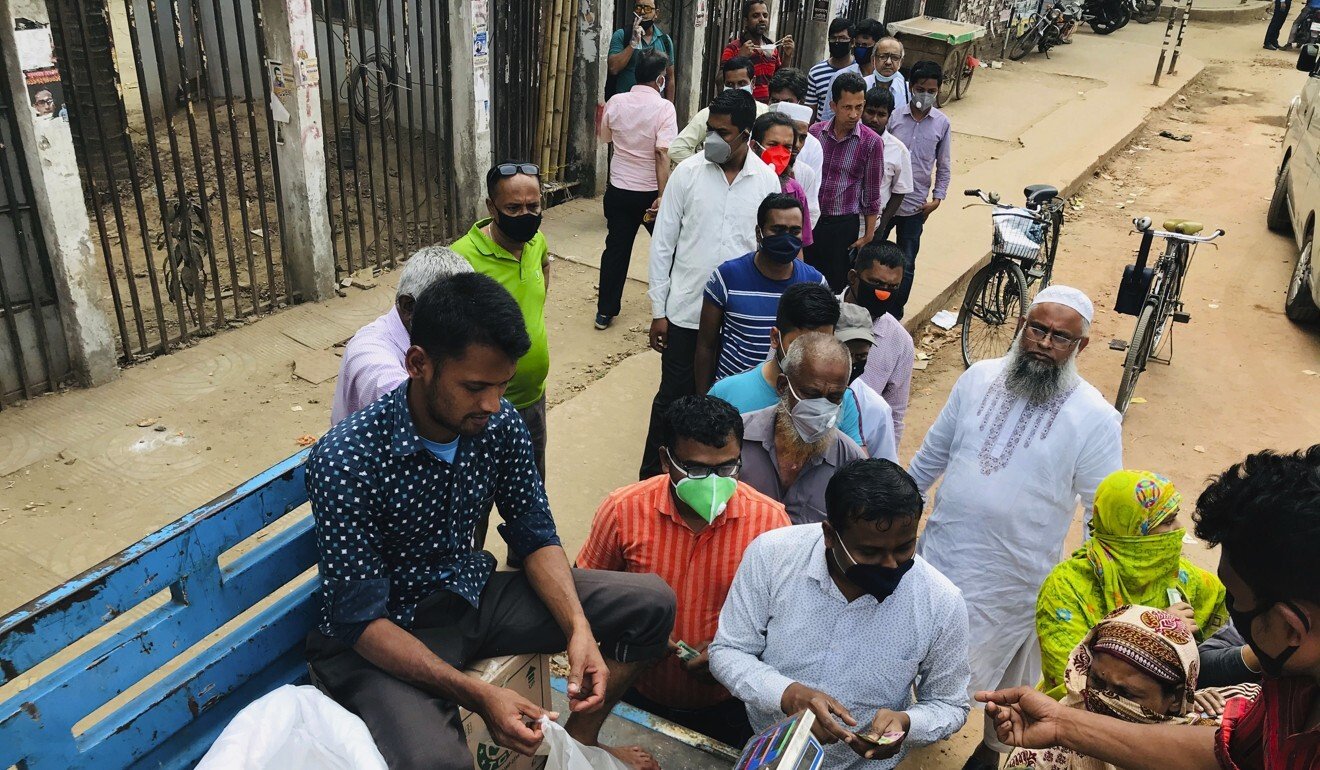 People, some wearing face masks, line up to shop for essential items from a roadside truck in Dhaka last Wednesday. Photo: AP
The Jack Ma Foundation and Alibaba Foundation on Sunday donated 30,000 Covid-19 testing kits and 300,000 masks to Bangladesh. Alibaba owns The South China Morning Post.Asked about the leaked report, the World Health Organisation's Bangladesh office replied that it used globally accepted modelling techniques, assuming that no intervention was taken to stem the spread of the coronavirus in order to portray the possible magnitude of the outbreak.
"The United Nations is fully supportive of the measures the government of Bangladesh has been taking to slow the spread of Covid-19," it said in a statement.
"Preparedness is ongoing, being scaled up continuously in terms of supplies, PPEs, testing capacity or capacity building for health workers and health facilities."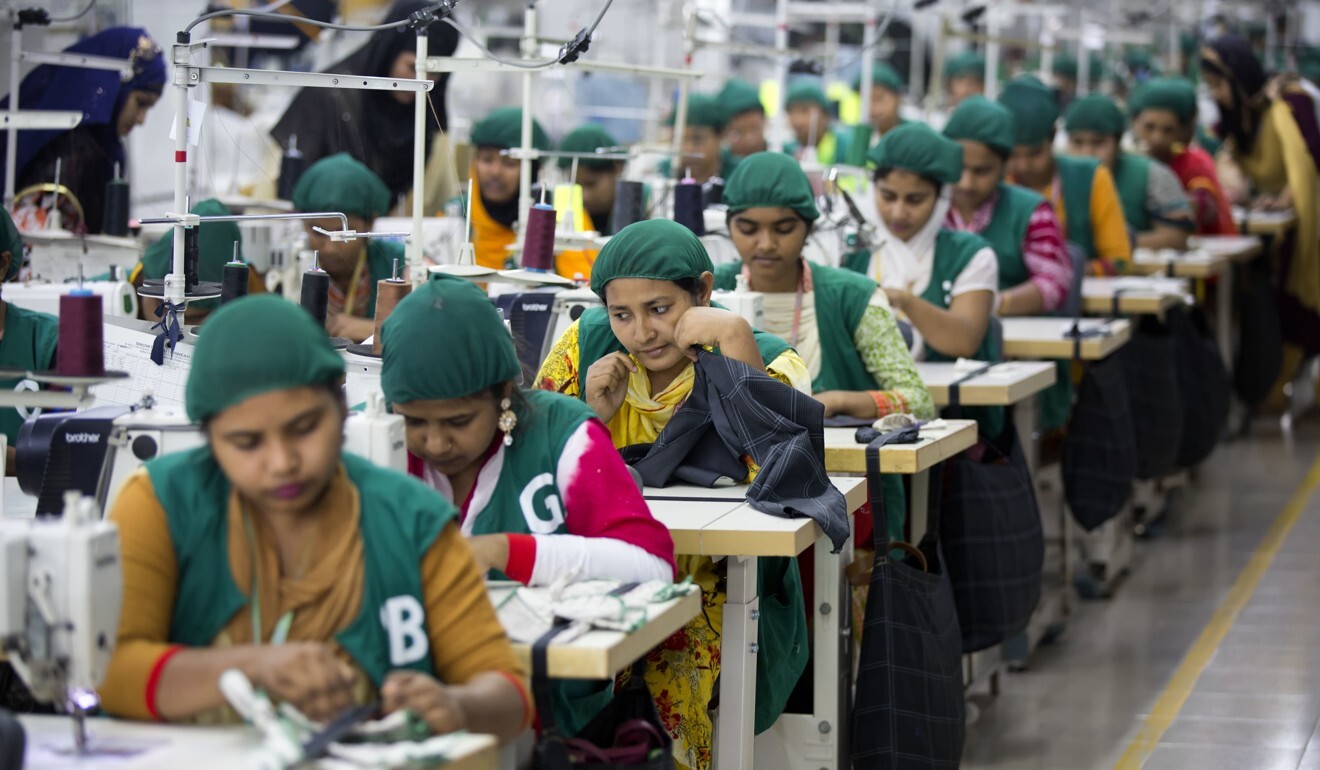 It added that China and other countries have provided "great support" to Bangladesh.Felix Chang Yoe-chong, chairman of the Hong Kong-listed Evergreen Products Group that normally produces 300,000 to 400,000 wigs a month in its Bangladesh factories, said the pandemic had caused some orders to the US to be put on hold, while some workers had been asked to go on leave and others on probation let go.
But it was the country's garment factories that were really feeling the sting, said Chang, who is well-connected to the Chinese business community in Bangladesh. "It's a big headache for them," he said.
Courtesy – Scmp