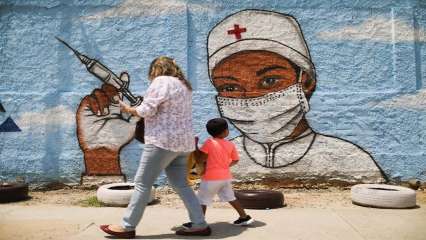 The COVID-19 virus is not going anytime soon and so is wearing a mask. Member of NITI Aayog Dr VK Paul said in an interview with a media organisation that wearing masks will continue even during the whole of next year. Dr VK Paul said that the battle against COVID-19 will require a studied combination of vaccines, effective drugs, and disciplined social behaviour.
Disciplined social behaviour refers to COVID-19 appropriate behaviour which includes wearing masks, washing hands, using sanitisers, practising social distancing and getting inoculated. 
"Wearing the mask will not go away for some time. We will continue to wear the mask even through the next year," Dr Paul told in the interview. Wearing masks is considered one of the most effective ways to guard against this contagious disease.
Dr VK Paul also hoped that in the future COVID-19 medicines would be developed to stop the pandemic and over the course of time the medicines would be as effective as the vaccines that are presently used for inoculation.
Reiterating the fact that a third wave of the COVID-19 pandemic could not be ruled out with several festivals around the corner, he cautioned that this was a crucial period and needed proper precautions. "We need to protect ourselves and avoid the outbreak. To me that is possible if we are all together in this show," Dr Paul said.
He also expressed confidence that the World Health Organisation (WHO) would approve the Bharat Biotech manufactured anti-COVID-19 vaccine Covaxin before this month-end.

Courtesy – www.dnaindia.com